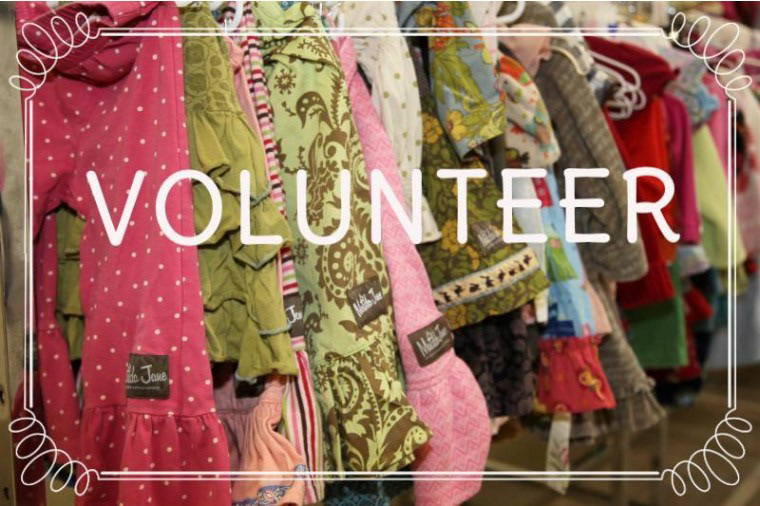 We couldn't have a successful event without our volunteers!  Volunteers get priority preview times and those that volunteer for more shifts get the best shopping times.
Shifts are in increments of 3 hours.  You can volunteer for 3, 6, or 9 hours.  There are some overlapping shift times, please do not sign up for overlapping shifts unless you would like to come before or after to complete the appropriate number of hours.  Sunday shifts are 4 1/2 hour shifts but count as 6 hours for shopping times. 
You can find a friend who also wants to volunteer to shop early and swap childcare with them.  You can get credit for referring your friends and shop even earlier!
Preview shopping times are the following:
NO ONE WILL BE ELIGIBLE TO BE IN THE LOCATION TO SHOP OR BROWSE PRIOR TO 2:00PM.  THERE WILL BE NO VOLUNTEERS, CONSIGNORS OR PUBLIC ALLOWED ACCESS TO THE LOCATION ONCE DROP-OFF HAS CONCLUDED ON WEDNESDAY. THE FIRST SHOPPING WILL BEGIN AT 2:00PM AND WILL ONLY BE THE SUPER VOLUNTEERS. 
2:00pm:

 24 hour SUPER volunteers - 12 hours during sale and 12 hours in advance by helping to advertise/run errands/etc. I am flexible with the combination of hours before and during the sale.  If interested, contact 

Erin

 - up to 10 people are eligible for this opportunity. 
2:45pm:

 12 hour SEMI-SUPER volunteers - 12 hours during the sale. If interested, contact Erin - up to 10 people are eligible for this opportunity. 
3:30pm

: 9 hour volunteers 
4:15pm

: 6 hour volunteers
5:00pm

: 3 hour volunteers who also consign
5:45pm

: 3 hour volunteers & consignors who are not volunteering
7:00pm

: Special New Moms & First Pregnancy Passes* 
7:00pm

: Educators/Teachers who share information about the sale at their schools!  Contact Erin for more information. 
*ONLY 50 AVAILABLE SO REGISTER EARLY!*
New Moms with a child 12 months or younger and women pregnant for the first time are eligible for the New Mom Preview Pass. Please register online. Once registered, your name will be added to the guest list. If you have shopped the last 2 events as a new mom, please do not register again.  I will be double checking the past lists for repeat names. You are welcome and encouraged to consign and/or volunteer to shop early! 
*VOLUNTEER REGISTRATION IS OPEN AND WE NEED VOLUNTEERS! SOME SHIFTS FILL VERY QUICKLY SO DON'T WAIT! SPECIAL SUNDAY SHIFTS ARE 4 HOURS BUT COUNT AS 6 HOURS FOR SHOPPING TIMES!*
Ready to volunteer?  Follow this link to register and select your shifts!